We all have a special memory of book readings and stories being told in a classroom or library group sessions when we were young. There may be those of you who still attend a book reading at a neighboring bookstore or library, especially if you have young children. It goes without saying that a reading host can add exponentially to a reading session if they're vibrant readers and storytellers. Add in props, as many do, and the stories take on a life of their own. Foundations are built for memorable experiences that will never be forgotten. One such storyteller is Andrea Garcia.
Parrot Story Tellers
Andrea Garcia is a library aide in the Los Angeles area working at Delevan Drive and Aragon Avenue elementary schools. It is there that she leads story sessions and uses her parrots and others of her exotic birds to assist in the adventures. During this Covid-19 era, she sets up her sessions via Zoom for a virtual impact. Andrea hosts some 32 sessions a week. In her sessions, she brings a bird to the forefront to draw in the listening children. At the beginning of the reading, she introduces her selected bird and usually the parrot will sit on her shoulder for the duration of the session.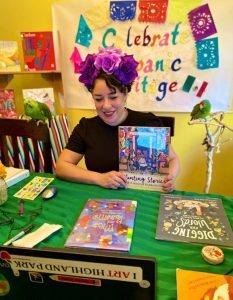 Andrea Garcia is a unique individual who, along with her husband, has acquired exotic birds since 2000. She currently has around 100 birds ranging from cockatoos, Amazon parrots, lovebirds, parakeets, finches, and cockatiels. Both Andrea and her husband were influenced by the parrots that were in their own young lives.
The idea for the Zoom sessions, which are ongoing, came from before the pandemic interrupted the natural flow of life. Andrea and her husband would host bird programs at schools and the nearby public
library to the delight of the audiences. The show would consist of tricks and would segue into the importance of proper care for the exotic pets. But as the pandemic raged with no rapid end in sight, Andrea suggested introducing her parrots into a Zoom session for story-time. Needless to say, the experiment has become a resounding success for all involved.
Of her birds, Andrea's favorites are Wocky, a blue-fronted Amazon parrot, a yellow-naped Amazon by the name of Harold Greene, and Lorie, a Goffin's cockatoo, who is quite shy and will only say her name. When
she's at the forefront, the other parrots charmingly chant, "Go, Lorie," with Lorie breaking into a dance. Harold Greene is her most talkative bird and is the one that interacts with the children the best during the sessions. At times, Harold will even slip in sound effects to enhance the story being told. Andrea dresses for the part of the story to make the sessions more fun.
The pandemic-influenced approach of stories via Zoom has earned Andrea some deserving attention in the news. Her approach is a gracious one that entertains children with adventures and with the reactive
displays of exotic birds. Combining their uniquely individual personalities into a show is quite simply just what the doctor ordered.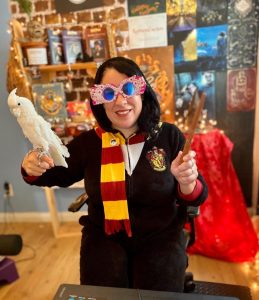 Our collective hats are off to Andrea, her wonderful birds, and the brilliant offerings of stories for children.